With SATA Dual Internal to eSATA Port Adapter Bracket you can:
• Convert 2 internal SATA connectors to external eSATA connectors
• Supports any PCI slots
Take the lightning fast speed of SATA beyond the body of your computer with the external eSATA slot plate adapter. The bracket adds external eSATA ports to Serial ATA controllers.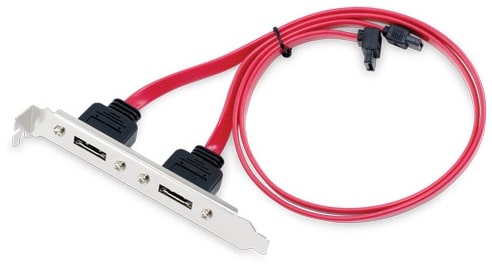 The adapter plate is easy to install. Place it into an open I/O slot of your machine and plug the cables in the Serial ATA connectors of the motherboard or SATA controller card. Now that everything is in place connect external SATA drives with the new eSATA connectors.