The world of music technologies is rapidly developing and changing by the day. If you are old enough, you would remember tape cassettes and vinyls used for audio recordings. However those days are gone – the beginning of the century saw mass transition from tapes to CD disks and other digital media devices. We all had to copy our music from an analog to a digital medium, and if you had a good analog to digital music converter, the sound quality would improve in the process.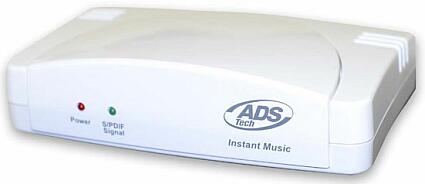 ADS Tech Instant Music
ADS Technologies RDX-150-EF Instant Music is a hardware setup designed to help you import your vinyl records or cassette tapes into your computer. First you need to connect your vinyl records and tapes to a junction box, then connect the box to your computer with the help of a USB cable. The software tool that comes along with the hardware helps you record music in a common format such as MP3, WAV and WMA. You can even the audio, i.e. remove scratches and hiss sounds.
Isn't it great to have your dusty vinyl records or tape cassettes collection transformed into an organized audio library on your computer? With the help of ADS Technologies RDX-150 your favorite soundtracks get a second life to live. You can, of course, copy or move your enhanced audio recordings from the computer to an audio player or iTunes, and there is no need to worry about your tape cassettes and vinyl getting scratched or spoiled over time.
Get music stored on USB sticks remotely
With music stored on USB sticks and drives things have become even easier. It is not required to have physical access to a USB device to access music stored there. USB to Ethernet software enables you to access a remote USB drive over network.
Highlights of USB Network Gate functionality:
• Access remote devices over network (Ethernet/ LAN/ WAN/ Internet);
• Share local devices with other computers in the network;
• Work with USB devices in thin clients from a remote desktop;
• Interact with USB ports of the host from a virtual machine. The app supports virtual environments created by VMware, Hyper-V and Citrix.
Here is how you share music on a USB device:
Download and install the application – the computer that has a device attached to it is called a server, while the computer that needs remote access to the device is a client.


Launch the app on the server, in the list of available devices click Share next to the device you'd like to provide access to.


Go to the client and launch the app there – click 'Connect' next to the shared device.